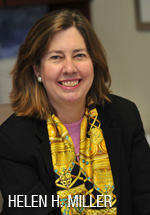 Letter from the CEO
and President
In 2010, CancerCare enters its 66th year meeting the ever-increasing needs of people facing what is often the biggest crisis of their lives: a diagnosis of cancer. Over the past fiscal year, record numbers of people came to us for help covering the costs of getting to and from treatment...getting reliable information...coping with the stress cancer can bring. In fact, demand for services, provided by our full-time staff of more than 60 professional oncology social workers, rose nearly 8% in fiscal year 2009, when we helped more than 116,000 individuals and their families affected by cancer.
CancerCare met the increased demand thanks to our many institutional and individual donors who, in a year of global economic turmoil, stood by us and strengthened their commitment to our mission. Dedicated individuals from across the country wrote checks, organized fundraisers, participated in our Walks for Hope, and chose CancerCare as their benefactor. Still others volunteered their time and energy to raise awareness about our free, professional support services to anyone facing cancer.
CancerCare extended its reach in fiscal year 2009 by providing direct services to people in all 50 states and 92% of U.S. counties. More than one million unique visitors came to our websites for reliable up-to-date information and support. Fiscal year 2009 also marked the first full year of operation of our related Co-Payment Assistance Foundation, which distributed nearly $10 million to more than 3,000 people who needed help covering the cost of their health insurance co-payments for their cancer treatment.
These are only a few of the highlights of the past year. We invite you to view this presentation of our annual report for fiscal year 2009 and learn more about our donors and some of the individuals we've helped.
On behalf of the staff and clients of CancerCare, we extend our deepest gratitude to you for your continuing support.


Helen H. Miller, LCSW
Chief Executive Officer


Paul M. Friedman
President, Board of Trustees