Dear Walk for Hope Supporters,
Thank you all for coming out to support Walk for Hope. It is because of your dedication and fundraising efforts that we have raised $195,000.
We have almost reached our goal of $200,000 which we know we can achieve. It's not too late, so please continue fundraising; the deadline for receiving incentives for donations is Wednesday, October 29, 2008.
Our top 5 fundraising teams are:
IMS Health NJ-Team McDonald
Hella
IMS Health NJ-Team Michele Mitchell
Team Polkowitz
Friends of Mike Ocone
Our top 5 fundraisers are:
Beth Heller
Gary Polkowitz
Joyce Heller
Caren Heller
David Campbell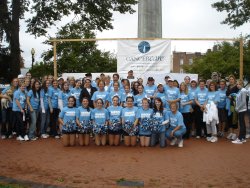 There is only one reason for our great success: the dedication and hard work of each and every supporter. We hope you had fun and learned a little bit more about the programs and services CancerCare has to offer.
Thank you for all of your support of CancerCare's Walk for Hope,
Stephanie Karlo
Kathy Trethaway
Katelyn Foran