Another Sweet Success for CancerCare's Junior Committee at 2nd Annual Sweet Charity Benefit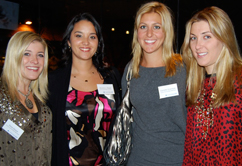 Junior Committee members (l–r) Alexis Kipper, committee co-chair Silvana Perelli, Danielle Schembre Burakovsky and Katherine Tekworth-Porter.

New York, NY — It was clear that cabin fever had set in as more than 100 young professionals from the New York area sought the warmth of Dylan's Candy Bar on February 11th for a benefit cocktail party hosted by the CancerCare Junior Committee.

The 2nd Annual Sweet Charity: Candy for a Cause raised awareness and funds for CancerCare's free support services for people facing cancer.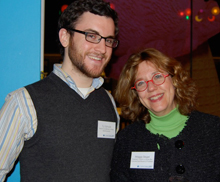 Dylan's Candy Bar President and COO Maggy Siegel with CancerCare staff member T.J. Schuck.

This sugar-infused annual event featured beer from Brooklyn Brewery, red and white Bouchaine wine and signature cocktail creations by Stoli Vodka. The lively crowd also snacked on savory sandwiches from Haven Restaurant and Dylan's famous cupcakes and candy.

An air of anticipation filled the room throughout the evening as guests browsed the raffle and auction items and purchased their chances to win exciting prizes including two tickets to Mercedes-Benz Fashion Week, a gift certificate to Callaway Golf, dinner at Bobby Vans and salon services at Pepper Pastor Salon. Also adding a sense of adventure to the evening, attendees lined up to seek insight into their futures with psychic readings from Ms. Sharon.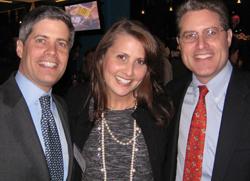 Junior Committee member Liz Ostow
with attendees.

To round out an evening of socializing, CancerCare's Chief Executive Officer Helen Miller, LCSW and oncology social worker Brooke Laster, LMSW, spoke about the specialized services such as the Young Adult Program and educational workshops that CancerCare offers to individuals who are facing a cancer diagnosis.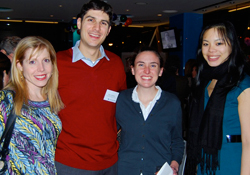 Junior Committee co-chair Dan Glatter and committee member Heather Glatter
with fellow partygoers.

Many thanks to our sponsors Dylan's Candy Bar, William Grant & Sons USA, the Dully Family, Brooklyn Brewery, the CancerCare Junior Committee and our attendees for making the night a truly special occasion. We look forward to seeing you at the next CancerCare Junior Committee event!

For more information about joining the CancerCare Junior Committee, contact Bertie Downs, Special Events Coordinator, at 212-712-8337 or bdowns@cancercare.org
Junior Committee members and attendees enjoying the night!