Under the Sea Gala Makes a Big Splash for CancerCare's Kids' Program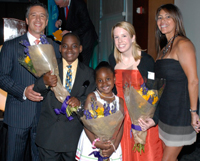 Gala Co-Chairs Drew (l) and Annette Pizzo (r) with Justin Williams, Doniella Ambersley and CancerCare's Brooke Laster.

Thanks to generous supporters like you, CancerCare's annual fundraiser was a swimming success, benefiting CancerCare for Kids® and our free services to children and families facing cancer.

More than 350 guests joined in a magical evening on June 4 at Pier Sixty in New York City raising more than $440,000 for the CancerCare for Kids program. Silent and live auctions featured treasures like fine wines, exotic vacation packages, luxurious spa treatments, and once-in-a-lifetime experiences.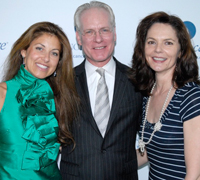 Dylan Lauren of Dylan's Candy Bar joins special honoree Tim Gunn and CancerCare's Jeanie Barnett.

Drew and Annette Pizzo, captaining this year's event as Gala Committee Co-Chairs, warmed up the dinner crowd with a rousing welcome speech, then turned the lectern over to CancerCare social worker Brooke Laster, who introduced a heartwarming video about the children's program featuring clients Justin Williams and Doniella Ambersley. The children and their families were also in attendance and joined Brooke onstage to give a special thanks to all attendees for their support. Cornerstone Communications provided funding for the children's video.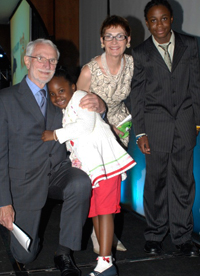 Ed Lauber and Marcia Palanci with Doniella Ambersley and Brandon Browne.

Special honoree and fashion guru Tim Gunn, joining us for the second consecutive year, offered himself up for a one-on-one lunch and style consultation to one lucky bidder during the live auction, which CancerCare board member and auctioneer extraordinaire C. Hugh Hildesley of Sotheby's guided with his signature wit and brio. He had no trouble getting this crowd to raise their paddles high for more than a dozen featured items, including a stay at an exclusive resort in St. Maarten and a party at Dylan's Candy Bar, presented by founder and proprietress Dylan Lauren herself (the party was so popular she generously offered up a second Dylan's Candy Bar Party that went in a flash!).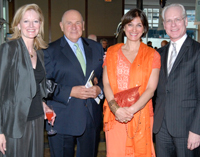 Fran and Ed Lukas with Gail Garramone and special honoree, Tim Gunn.

Under the Sea Chairs Emeriti and longtime supporters Ed Lauber and Marsha Palanci jumped in and announced raffle winners, and once again supplied an assortment of fine dinner wines, compliments of Ed's Lauber Imports. Chef Alison Awerbach and Abigail Kirsch Catering Relations prepared the sumptuous surf and turf fare, complimented by Italian dessert pastries provided gratis from Ferrara Café.

Generous individual and corporate sponsors also included: Bayer HealthCare Pharmaceuticals;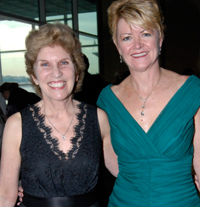 Diane Blum and Millennium's
Deborah Dunsire.

Bloomingdale's; Collection XIIX; Continental Airlines; Cornerstone Communications; Palm Bay Imports; Perry Ellis; Pfizer; Smith Electric; and UPS. In addition, there were a number of in-kind donors who we thank for their partnership.

Especially in these uncertain economic times, your continuing and unwavering support of CancerCare is more important than ever before, and makes such a profound and positive difference to children and families facing cancer. We extend to you our thanks and deepest gratitude for making this year's Gala a great success, and for all you do in making our free services possible.
See you next year!