Dr. Deborah Dunsire accepts the Partnership Award

"What unites all of us is that shared sense of purpose: to empower patients and provide them with hope."
—Dr. Deborah Dunsire, President and CEO, Millennium: The Takeda Oncology Company
More than 200 dedicated CancerCare supporters came together in New York City on February 23 to honor leaders in the oncology community who make a difference in the lives of people facing cancer.

CancerCare's 29th Annual Partnerships in Hope Awards Dinner, held at historic Gotham Hall, bestowed the Partnership Award to Millennium: The Takeda Oncology Company, a leader in providing innovative treatments for people coping with mantle cell lymphoma and multiple myeloma.

CancerCare CEO Helen H. Miller welcomes the evening's guests
In 2009, Millennium provided CancerCare with a grant to launch a transportation assistance program to help multiple myeloma patients cover the costs of getting to and from their treatment. Today, our Door to Door program has approved nearly $1.2 million in grants to more than 1,650 patients.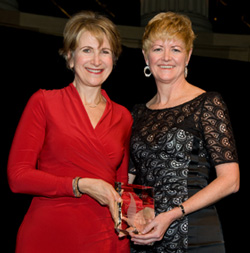 CancerCare Board of Trustees President Susan Smirnoff with Dr. Deborah Dunsire of Millennium: The Takeda Oncology Company
Millennium's President and Chief Executive Officer, Deborah Dunsire, MD, accepted the award. Dr. Dunsire, who is also a member of CancerCare's Board of Trustees, remarked on the longstanding relationship between Millennium and CancerCare:
"There is one word that characterizes Millennium's relationship with CancerCare, and it's why we are all here tonight: partnership. The foundation for our seven-year partnership with CancerCare is a shared commitment to helping people living with cancer and their loved ones."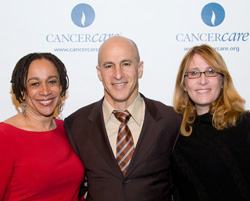 Host S. Epatha Merkerson, with CancerCare client Steven Stabiner and his wife, Julie
The evening was hosted by celebrated actress and longtime CancerCare advocate, S. Epatha Merkerson. Merkerson introduced the evening's guest speaker, CancerCare client Steven Stabiner, who shared a moving account of his diagnosis and treatment for multiple myeloma. Stabiner, a world-class athlete, firefighter, and father of three, described his feelings of vulnerability and fragility after his diagnosis, as well as how his support group at CancerCare helped him cope with the difficult emotions he was experiencing.
| | |
| --- | --- |
| (l-r) Tara O'Connell and Megan Salettel of Millennium, Alexandria Cherry of Eisai, Mark Claxton of Millennium | "As I recuperated from cancer and my life started to normalize, there was a certain feeling of disconnect. I felt alone and depressed. [But] my support group at CancerCare allowed me to share my feelings and experiences unconditionally. CancerCare gave me the starting point to reconnect," said Stabiner. |
We thank you for your support of this year's awards dinner, and look forward to seeing you next year at CancerCare's milestone 30th Annual Partnerships in Hope Awards Dinner.
(l-r) Manny Magoulakis of Pfizer, Lance Wilson of Pfizer, S. Epatha Merkerson, Stacey Simmons of Pfizer, Michael Zilligen of Ogilvy CommonHealth Worldwide, Susan Smirnoff, Mike Zincone of Pfizer
To view more photos from the Awards Dinner,
please visit our online gallery on Facebook »